My brother in law, okay actually my brother's wife's brother (a distinction we have to make much too often), treated me out to an amazing Mexican restaurant this week. If you follow this blog you know I'm not a fan of Mexican food in Korea. Nothing has yet come close to the real stuff. Coreanos, I'm glad to say, has become my new favorite Mexican spot in Seoul. It's still a bit pricey, but finally the quality matches the price.
Coreanos started in a food truck on the streets of Austin, Texas in 2010. After winning numerous awards for their street fare they literally went in the exact opposite direction and opened a flagship store in one of the highest priced areas in Seoul, on Apgujeong's famous-10-years-ago Rodeo Street. Though Rodeo doesn't claim quite the foot traffic and prestige it did 10 years ago, it's still a hot spot with some of the best fashion retailers and restaurants in Seoul. Coreanos somehow fits in well. We went on a lazy Wednesday afternoon, and while the streets were sparsely populated, there was a nice buzz down in Coreanos Kitchen.
I knew we were in for something great when the nachos landed. The nachos were typically delicious, as nachos are, but the salsa was incredible. Flavorful, fresh, and best of all, SPICY. While red salsa is typically more spicy, here the green takes the heat. When I asked for more they generously gave me one  bottle of each, which I lavishly flooded over each item.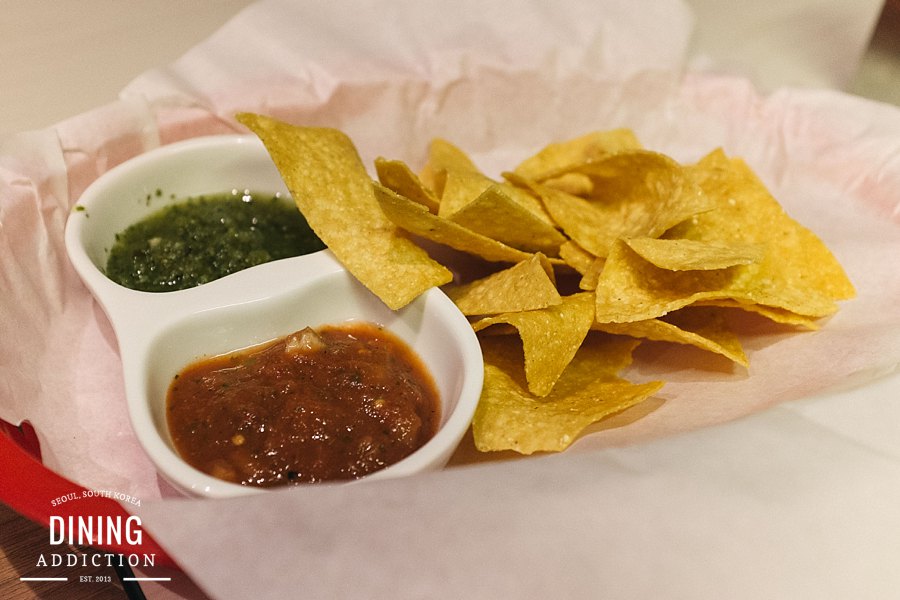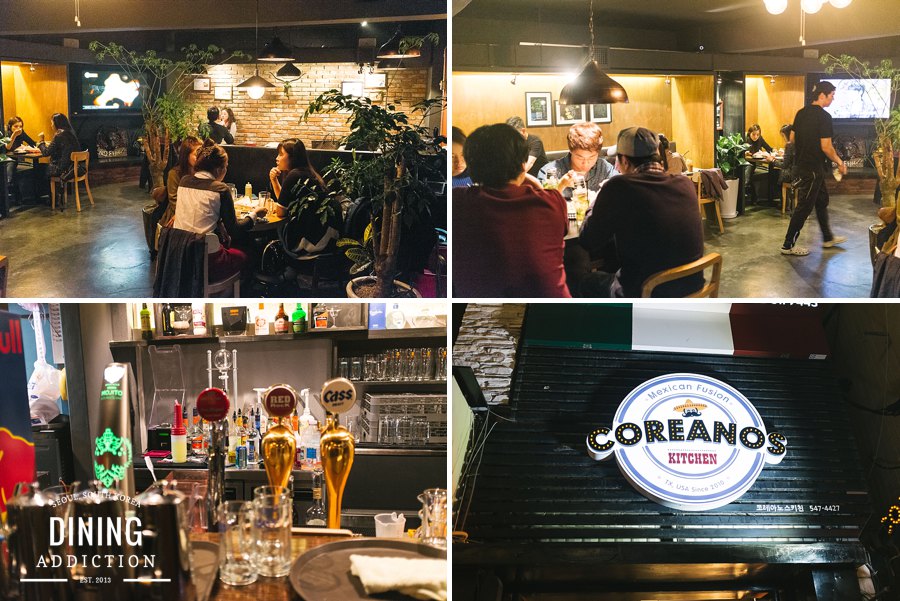 Now let's get into the food. For the full menu check out their FOOD MENU and DRINK MENU.
Grilled Shrimp, Carne Asada, and Citrus Chicken 3,300w each
I think the pictures speak for themselves here. Wrapped in fresh corn tortillas, each taco was hand crafted with fresh and vibrant ingredients. I personally only had the citrus chicken and it was great. The chicken was nicely marinated and cooked just right. The tomatoes, herbs, and salsa were spot on. And best of all, jalapeños were served on the side. Perfect.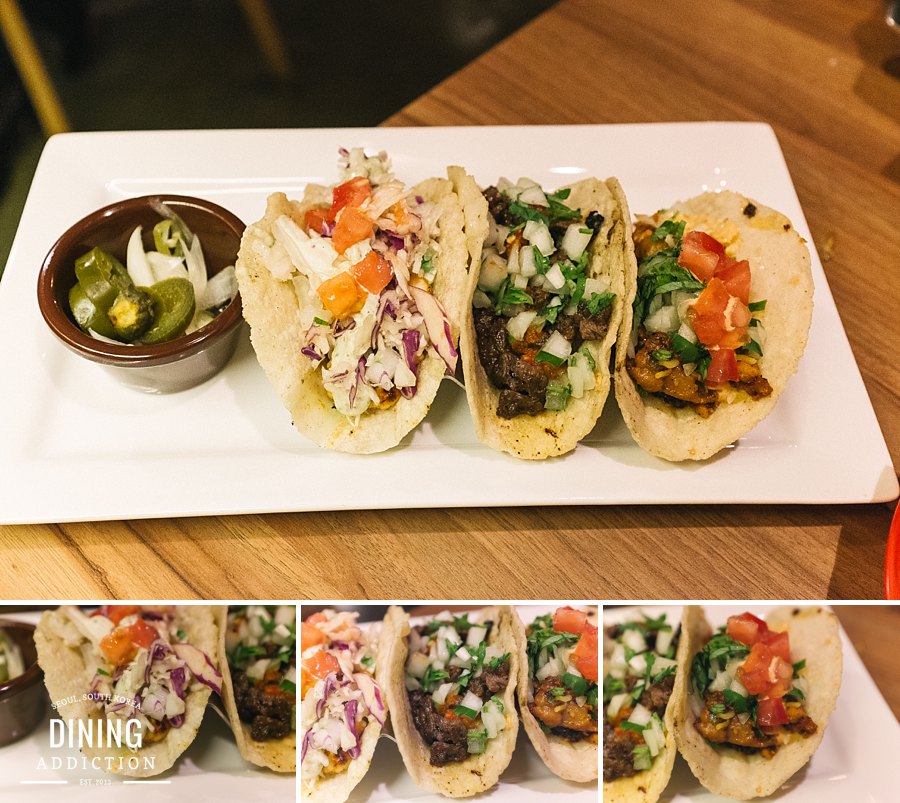 OG Burrito 9,000w
Okay, the OG burrito was the one item I didn't care for. Actually I didn't care for it at all and it almost ruined my palette. Sweetened galbi and caramelized kimchi just didn't fit with the rest of the items in our meal. It was overly sweetened and the flavors didn't mesh together in my opinion. There were no technical faults here, and perhaps other people like this, but it didn't seem right to me. Fusion fail.

Three Wise Fries 12,000w
Yes. Yes. Yes. Yes. Yes. Yes. Yes. Yes. Yes. Yes. Yes. Yes.
Menu description is all that's needed: Voted Best Fries in America. Chicken, Beef, and Pork + three different hot sauces served on fries, with pico de gallo and grilled onion.
Just… be wary of heart attack. This thing is big, and probably not good for the heart, or liver, or stomach, or intestines. Basically anything but the tongue.

Meat Quesadilla 9,500w
Quesadillas are generally small and overpriced, and no exception here. But at least it was good. Fresh ingredients, nice sauce, nice crisp on the tortilla. Overall deliciousness.

Coreanos Coronarita 13,000w
I'm not sure what's with this obsession at Korean Mexican restaurants to throw a beer in their margaritas. But two cute Korean-American girls were drinking them next to us so we thought we'd join the party. As usual, where the hell is the tequila? We asked if they had included some, and they insisted so. But I just tasted watery corona. But this is par for the course here in Korea, so can't complain too much. Nonetheless, they look fun and make the girls happy.

And make the Sam and Dustins happy.



View Dining Addiction – Seoul in a larger map
Coreanos Kitchen – 코레아노스키친
강남구 신사동 657-11 B1
657-11 B1 Shinsa-dong, Gangnam-gu
02-547-4427
coreanoskitchen.com
Open 11:30 a.m. to 3 p.m., 5:30 p.m. to 10 p.m. Tuesdays through Thursdays, till 11 p.m. Fridays; 12:30 p.m. to 11 p.m. Saturdays; 2 p.m. to 10 p.m. Sundays; closed Mondays