I often eat at these self-grill meat restaurants. My friends and I enjoy eating it not necessarily because meat is delicious (though it is), but because it has an atmosphere we enjoy. It's nice to sit around for an hour nibbling on meat and have a few bottles of soju. My taste for meat has changed through the years as well. Until several years ago I had always liked marinated meat (양염고기). These days however the cleaner the taste the better. So now I search how meat that is only flavored with salt and maybe some pepper and sesame oil (참기름). And that's why I really enjoyed this restaurant.
Kim Don Ee features fresh never-been-frozen pork from Jeju Island. It's slightly more pricey than other restaurants, but it's worth it. The menu is simple… it's just meat, and a couple carb dishes. The meat is Pork Neck (목살) and … actually I don't know the english translation, but it's 오겹살 O-gyupsal, which is like samgyupsal, but with five layers of meat/fat instead of three. You eat the pork neck first and then eat the ogyupsal, and the guys there will be most of the grilling for you.
Apparently this is also a hot spot for company people to come drink at after work. I looked around carefully and noticed that every single table had soju and people were quite rowdy. It's my kind of place. Actually, while we were waiting in line outside a girl was carried out over the shoulder of her firend, with her skirt unflatteringly hiked up. She sat outside with a blank look and dry heaved for a bit while her friend held her hair.
Two Portions 2인기준 600g (that's all it's called on the menu) 36,000w
Look how thick it is! It's about as thick as an egg. :D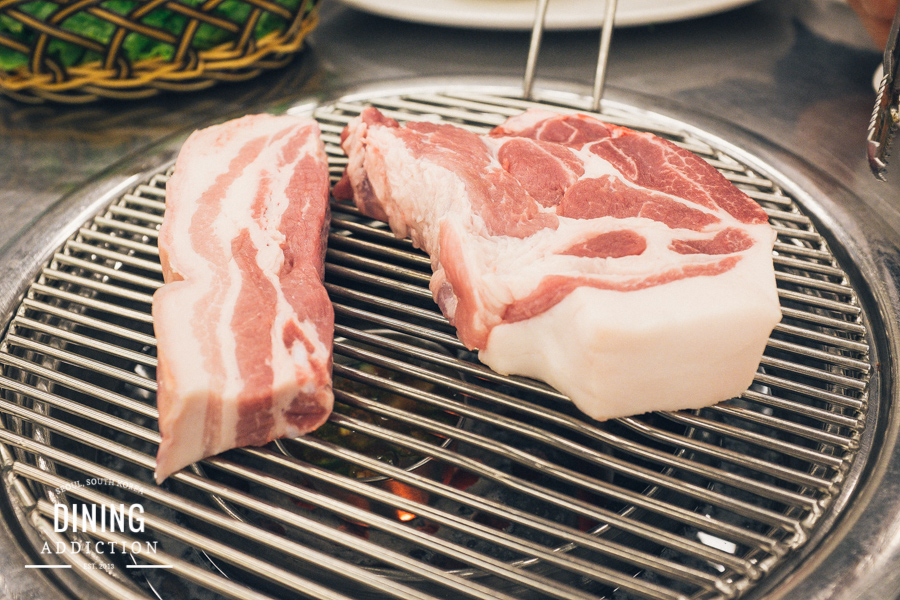 Kimchi Stew (김치찌개) 6,000w
This was really good. Really good. It makes a huge difference when a meat restaurant pays attention to their carb dishes. This was fantastic. It's rare for me to say this, but I'd go back here for lunch just to get this. Probably the best part about it was there was good amount of meat in it.







Apparently this place is pretty popular, and there are a lot of locations. Find one near you!

View Dining Addiction – Seoul in a larger map