How's it going guys. Are you surviving this summer? I am not. I am dying. I woke up no less than 10 times last night due to the heat. I hope you're fairing better than me.
Today we are going back to the roots of Korean food. If you ask a Korean what one food best represents traditional Korean cuisine, likely the majority will say Bibimbab (비빔방). Bibimbab literally means "mixed rice" and is a simple mixture of steamed rice, some meat, a variety of vegetables, and some chili pepper paste (고추짱). Often raw egg yolk is mixed in as well. Though almost any vegetables can be thrown in, typically used vegetables include julienned cucumber, zucchini, daikon, mushrooms, bellflower root, spinach, bean sprouts, and lettuce. Bibimbab can be served both hot or cold.
고궁 or Gogung, the restaurant featured in this post is famous for their… yes, bibimbab. Specifically they feature Jeonju (전주) style bibimbab. Jeonju is a city located in the center of  South Korea and is famous for iteration of this dish. As far as I can tell, Jeonju style bibimbab simply features a more diverse variety of vegetables.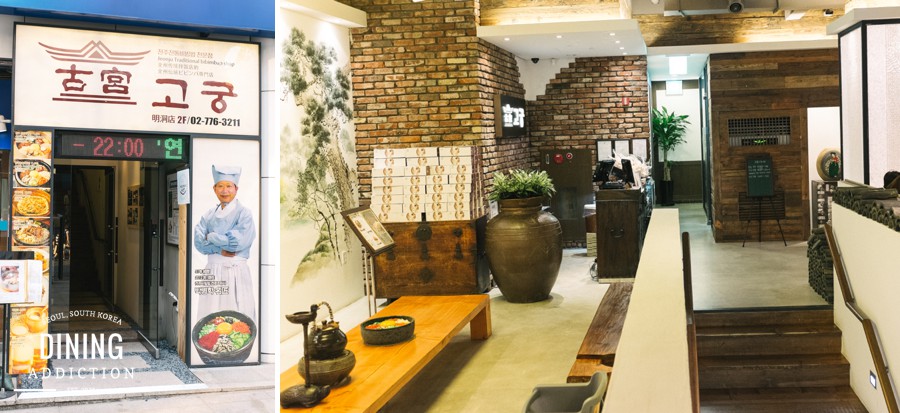 For this restaurant review I was joined by the amazing Alia from Cooking with Alia. Alia has a popular cooking youtube channel, featuring mainly Moroccan inspired dishes so go check it out! Having just moved to Korea for work she contacted me for some food advice. Welcome to Korea Alia!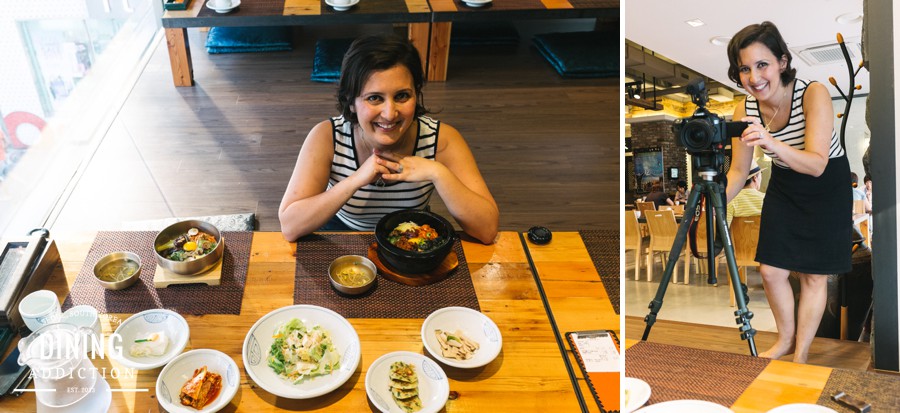 Alia insisted I need some more photos of myself.

Jeonju Traditional Bibimbab – 전주전통비빔밥 11,000w
This is the vanilla of Bibimbab. Which isn't a bad thing. I love vanilla. Notice the wide variety of veggies and their magnificent saturated colors. If you're a pansy you can remove the chili paste. The soup on the side is Bean Sprout Soup (공나물국).


Jeonju Dolsot Bibimbab – 전주돌솥비빔밥 11,000w
This one is very similar to the above, with the only variation that it's served in a hot stone pot. The stone pot is served just off the stove so that the rice is still popping when it arrives at the tables. This allows the rice rimming the pot to slightly burn, giving it a distinctly awesome flavor and texture. Try to resist mixing everything for a minute to let the rice burn longer. Also this one will be a lot hotter than the above, so be aware that you're getting a hotter dish. Something especially to keep in mind during this summer. By the way, this summer is murdering me.



They feature live traditional Korean music. This performer seemed bored out of her mind. I can't blame her. This day must have been her one millionth time playing Arirang.







Two locations! One in Myeongdong, and one in Insadong.

View Dining Addiction in a larger map

View Dining Addiction in a larger map
Myeongdong
11-1, Chungmuro 2(i)-ga Jung-gu, Seoul, South Korea
서울 중구 충무로2가 11-1
+82 2-776-3211
Insadong
38 Gwanhun-dong Jongno-gu, Seoul, South Korea
서울 종로구 관훈동 38
+82 2-736-3211