There's not much good sushi in Korea. Actually I haven't really had any. But to be honest I've been spoiled by a mother who loves sushi and constantly took me to the best sushi spot in California, Sushi Ota. Wow, I just visited Ota's website for the first time… I wonder if Ota has ever visited his website. His restaurant is gorgeous and his fish are pristine, but that website is hideous. Anyhow, I'm spoiled by good fish, so it's hard for me to eat sushi in Korea. My mother flatly refuses to do so. But luckily my friend introduced me to Hoya here last year and it's the only place I'll go back to. Honestly the fish isn't amazing, but for Korean standards, and at their price point, it is definitely worth the value. That's not a flattering way to put it. Simply, it's good, at a good price.
Typically there is a 15-20 minute wait, but we went at about 6:00pm on a Monday and were able to sit after a 5 minute wait. To get in line you enter the door on the right and the sushi chef will ask you how many people in your party. Then he'll instruct you to take a magnet from the wall with a certain number, and you step back outside to wait for your table to be ready. If your Korean isn't up to snuff just use some fingers to make sure you get the right number.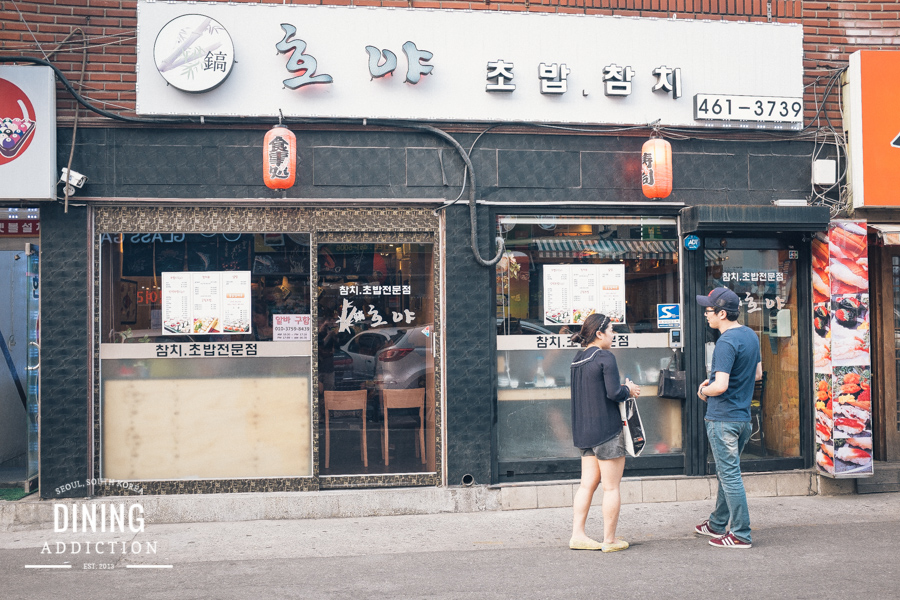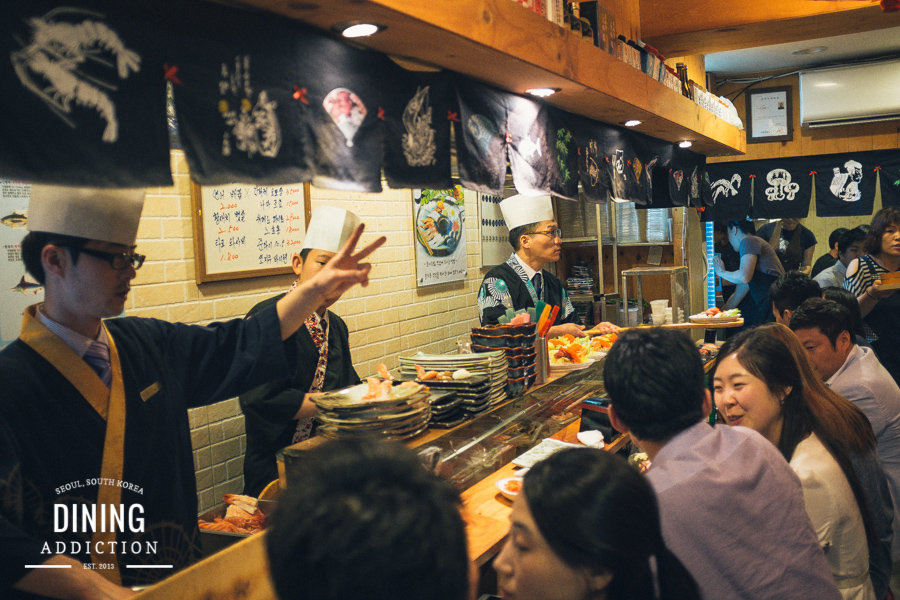 We ordered two items, the salmon sashimi plate and the special Hoya sushi mix.
Salmon Sashimi (연어회 Yun-uh hweh) 20,000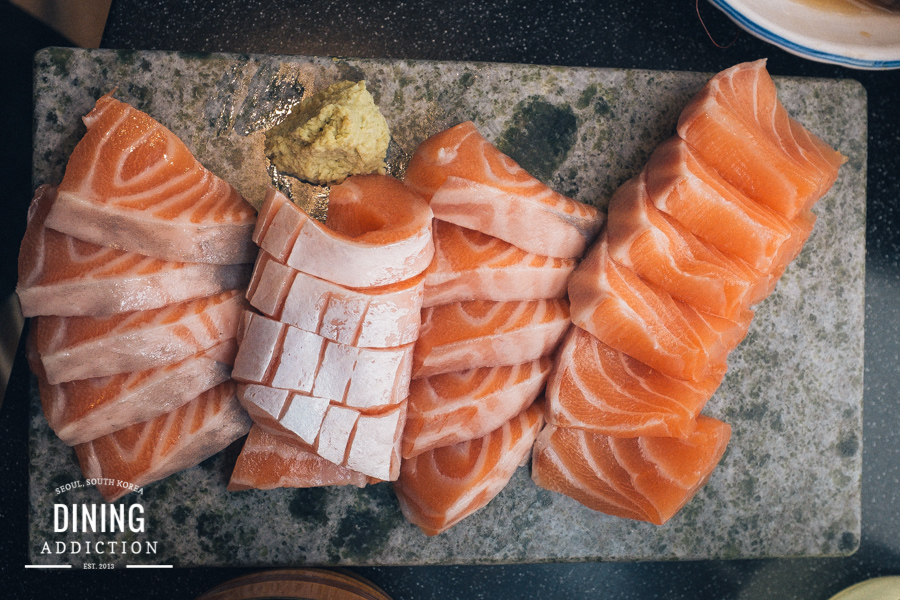 There are like four salmon fish on this plate. It's huge. I've ordered this at least four times at this restaurant and me and my friends have never actually been able to finish everything. I learned my lesson this last time, and I probably won't order it again for a table of two. Salmon is just too oily and rich to each so much of. It actually started making me feel funny when I ate about half this plate on my own. It's good, don't get me wrong, but it was just too much of one fish. This item is one of the more popular here, I usually see it on about half of the tables. Also I see a lot of people take part of it home, so that's a good strategy.
I really like their wasabi. It has more of  a subtle flavor than the tube variety. I think they make it in house.
Hoya Special (특호야 Teok Hoya) 13,500w



Everything on here was quite good. The most important quality for fish is that its fresh. Freshness is only possible with consistent sales which allows for accurate supply ordering. Because this restaurant does so much business, their fish is top quality.
Another great part of this restaurant is that they give so many free side dishes (반찬). All of the following were totally free.



If you don't speak Korean… good luck. :)



View Dining Addiction – Seoul in a larger map
Conclusion
A nice little spot for some great sushi at a great price.
English Name: Hoya
Korean Name: 호야
English Address: 12-36 Hwayang-dong Gwangjin-gu Seoul
Korean Address: 서울특별시 광진구 화양동 12-36
Phone Number: 02.461.3739, 010.3759.8439