As my friends were mostly asian while growing up, and as convoy is a very central location, I spent much too much time floating around convoy. For me convoy carries heavy associations of just slightly grimy tea cafes with young thugz, and old korean ladies grocery shopping. Things in convoy seem to constantly change, but never evolve; its constantly stuck in 10 years ago. I see the same lowered rice rockets and the same drunk old men stumbling out of karoake. Is Morning Glory still in this plaza? 15 years ago it was a Sunday ritual to get tea at Tapioca Express and then head over to Morning Glory to read the lately Engrish failures.
Rakiraki is a very welcome addition to the scene. Its pursuit of modern design extends to every part of its business. The food holds down the fundamentals with some amazing ramen while still pushing the bar with its unique ramen burger (where ramen serves as the bread section). It's interior has a beautiful industrial design with an open kitchen and zinc countertops. And it's website is… damn sexy, with minimalistic design and large beautiful photos. Even their social media team is rocking it. It's refreshing to see a business care for every corner of their brand strategy.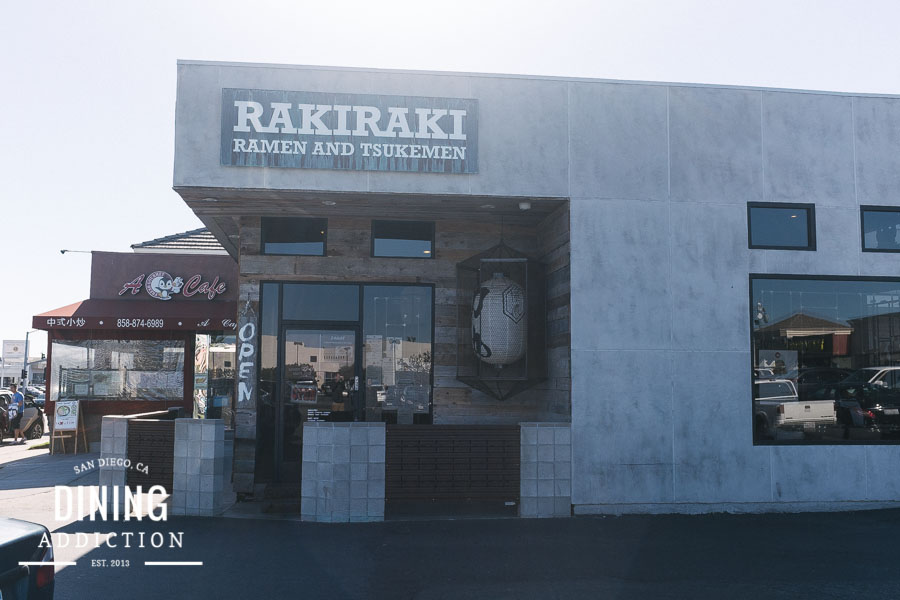 But on to the important part, how's the food? Well… it's phenomenal. But first, here's my buddy Daniel explaining to me the importance of pure alkalized water. Thanks Dan. Also Dan is Japanese, so this restaurant is Japanese approved.
Spicy Premium Hot Ramen $9.40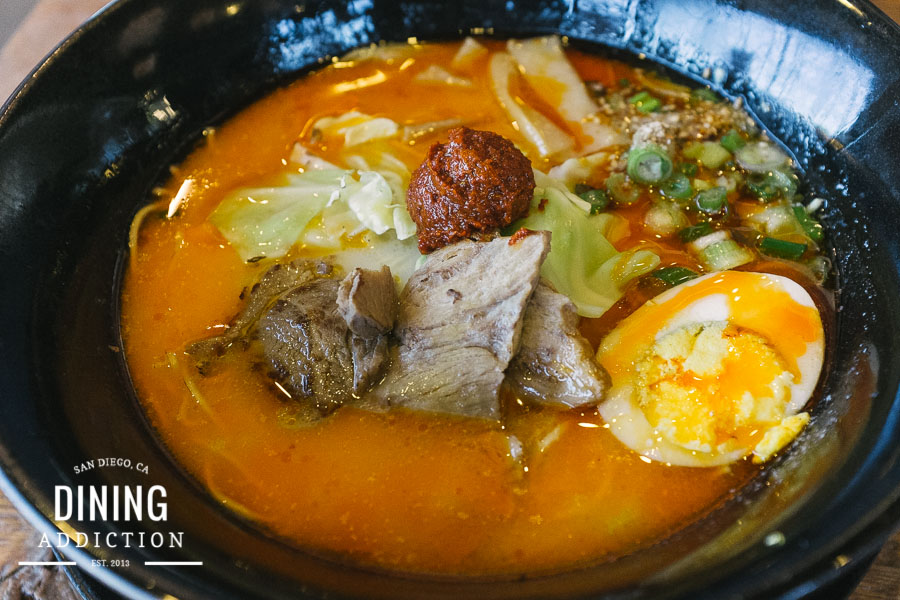 As this was my first visit I had to stick with the basics. They have a wide selection of ramen varieties including original, premium, tonkotsu, miso, shoyutonjotsu, rikimaru, and with choices for spiciness level. Check out their menu for the full list. Apparently their hot sauce is pricey because they charge an additional $1.25 for it.
Rakiraki uses a chicken based soup as opposed to a typical pork base. This gives a cleaner composure while somehow maintaining a complex and oil-rich texture. Every ramen is also given the choice of aburi chasiu (pork) or chicken. I myself went with the aburi chasiu, and Dan opted for the chicken. This ramen is perfection. I dare say it might rival my long-standing favorite place in LA: Daikokuya. I haven't had Daikokuya in almost 4 years though so it's hard to judge at the moment. Every component feels perfectly crafted together. The noodles are al-dente; the egg is soft and bouncy with an almost runny yolk; the broth is piping hot; and the ingredients are smoothly blended with no single overpowering notes. The pork and chicken are moist and generously portioned, and the broth is rich and creamy.
Premium Chicken Ramen $8.75

I just may have to come back sometime for that ramen burger. It looks kind of disgusting, but also kind of wonderful. Here's a pic from their website:

Details
Rakiraki Ramen & Tsukemen
4646 Convoy St. #102
San Diego, CA 92111
858-573-2400
http://www.rakirakiramen.com/
sun-thurs 11a-3p 5p-11p
fri-sat 11a-3p 5p-12a