Sushi Ota is the best sushi in San Diego. I just need to get that out there right from the get go. My Korean family are regulars here, on a first name basis with many of the staff and all that, so I've been here quite a number of times for the last 20 years or so. Yeah it's pricey, but for sheer quality, it just cannot be beat. But this is well known; Ota has won almost every best-sushi-in-san-diego award.
Sandwiched between a Planned Parenthood and 711 in an unassuming corner of Pacific Beach, Ota's location is the last place you'd expect to find a top quality restaurant. But like a well-read person, Ota's inside far outshines its modest exterior. With modern and classy design, Ota's restaurant is every bit as clean and beautiful as its sushi. Once I stepped in I was greeted by a crew of smiling Japanese hostesses. To the left is a large dining area with approximately 25 tables or so, and to the right is a classic Japanese sushi bar, with Chef Ota in his usual spot in the corner. It's refreshing that the head chef, who now enjoys so much success and is even busy consulting other restaurants, still spends several days a week making sushi and greeting guests. It's fun watching him. He's small and lightning quick, but delicate and meticulous. He's pushing mid 60s now I believe so he's not the sprite young man I knew him as when he opened the place 23 years ago, but he's sharp.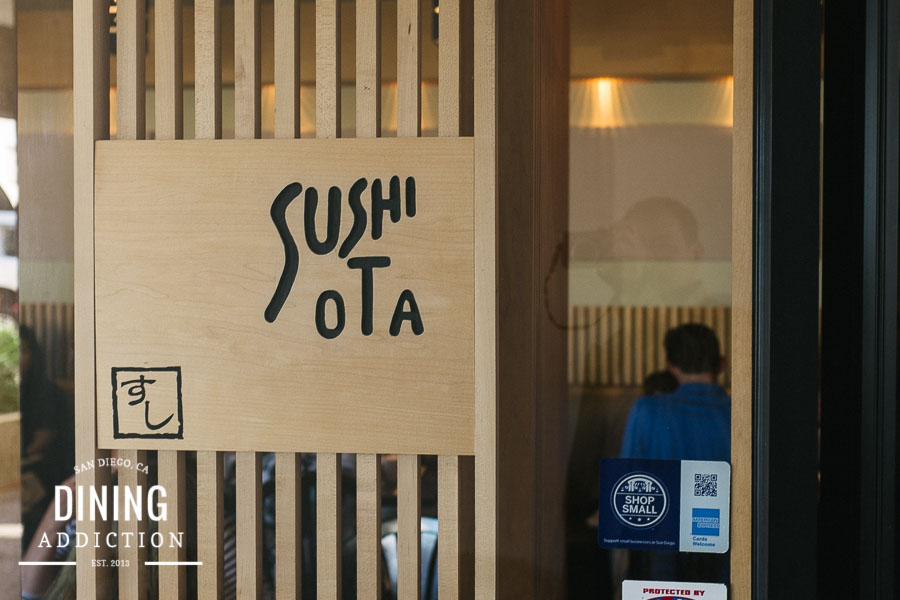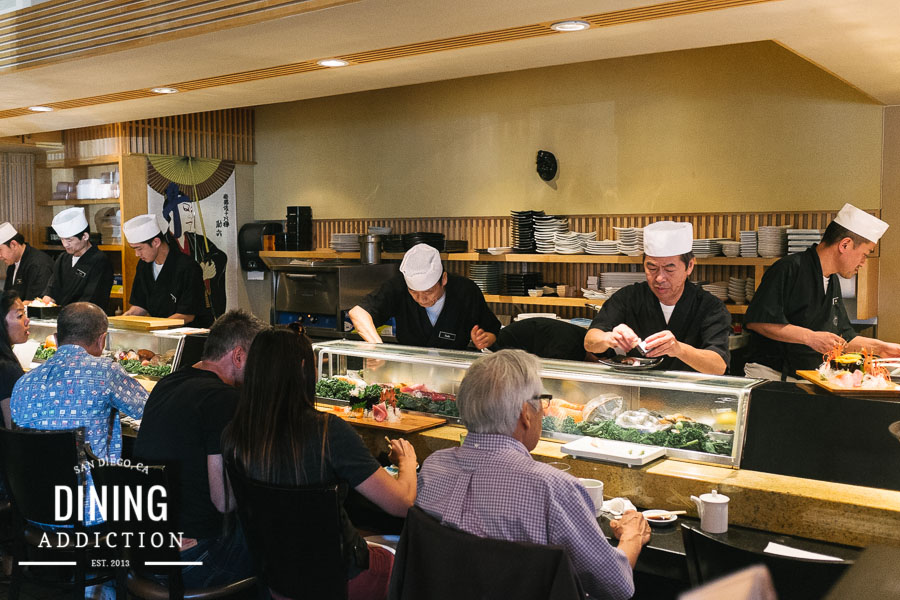 I can't speak for many items on the menu. I've had a few bites of the beef terriyaki, and once had a chirashi bowl, and oftentimes order the seabass, but that's as far as I stray from pure nigiri sushi. That's not to say that everything isn't fantastic here, it is. It's just that the star of Ota is the absolute freshness of the sushi. I've heard stories of Ota's prowess at the sushi market in his younger days, with him always outbidding every other competitor for the top fish. I expect he has others do that these days, but it's probably the same system. Ota just gets the best fish and rotates it fast enough that it's always the freshest in San Diego. I have never had bad fish here. And even fish which I typically don't like at other restaurants like Uni, they tend to taste good here.
My personal favorites are tuna belly and salmon belly. Tuna belly is separated into Chu Toro and O Toro ($12 and $15 per two piece, respectively). I recommend the Chu Toro, as the O Toro at Ota is so fatty it's like eating fish flavored oil. I've heard some people have spiritual moments with O Toro, but I don't get it. I stick with Chu Toro and avoid non-belly Tuna altogether, which tastes like plastic to me. The salmon belly is distinguished from regular salmon by the long tail at Ota, and the white stripes of fat running through it. Also here is Hamachi (Yellowtail belly), Uni (Sea Urchin), Tamago (egg), Giant Clam, and Eel.
As for wasabi, we always request copious amounts of "real wasabi". Real wasabi, as far as I can tell, is straight from the wasabi root, and has a more earthy flavor that won't punch you in the face so much as synthetic can. Give it a try and let me know how it is.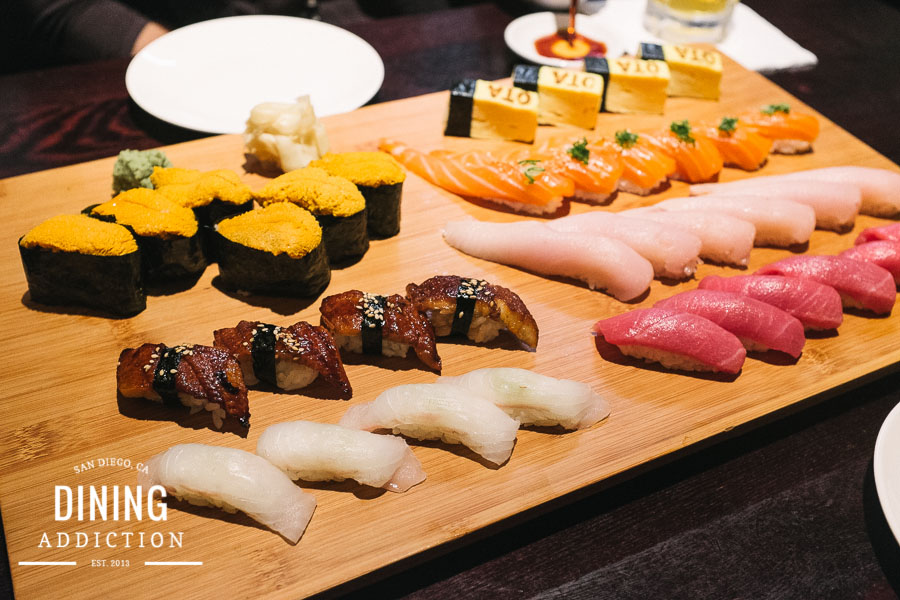 Miso Seabass

As for drinks, today we started with a glass of Sapporo, then moved on to Nigori, a sweet unfiltered Sake that didn't match the fish at all. And then moved on to Kurosawa, my personal favorite Sake. I recommend that if you eat at Ota, then skip the Nigori, it'll ruin your palette and go straight to Kurosawa or something better. I ordered the Nirogi because I've had great experiences with it in the past, but never partnered with fish on Ota's scale. But Kurosawa hits the sweet spot of price and quality.



To finish we ended with some hot green tea and green tea ice cream. It was a perfect way to end a perfect meal.

Sushi Ota isn't cheap, especially if you stick with sushi, but it'll be the freshest sushi you've ever eaten. Though the price is high, it's more than worth it. I've paid more for sushi and gotten less many times. You'll always get your monies worth at Ota.