Hurdy Gurdy easily wins the award for biggest discrepancy between food quality and restaurant name quality. I really want to know who's idea HURDY GURDY was. I almost want to not review this place just because this disgusts me. Korea has a long tradition of ugly sounding English named businesses. In fairness, 허디거디, the Korean translation, doesn't sound quite as disgusting, but still, it's not pleasant.
Hurdy Gurdy is a modern style diner with fusion Italian food. It's recently gained quite a following in Korea and has expanded, through franchises, to over 20 locations throughout Korea. The Gangnam location I visited is it's most recent opening just this May. If I didn't know the cuisine I'd have never assumed this place served Italian cuisine. Clubbing music (mix between house-Benni-Bennasi-style, and hip hop) bumps through the speakers, neon lights decorate the ceiling, and waitresses sport short shorts. The atmosphere of this place is the real draw. It's exciting, modern, lively, all things a restaurant should be.
This location is a bit hard to find, but look up to the 3rd floor for the sign. You have to go into the office building and make your way up the escalator.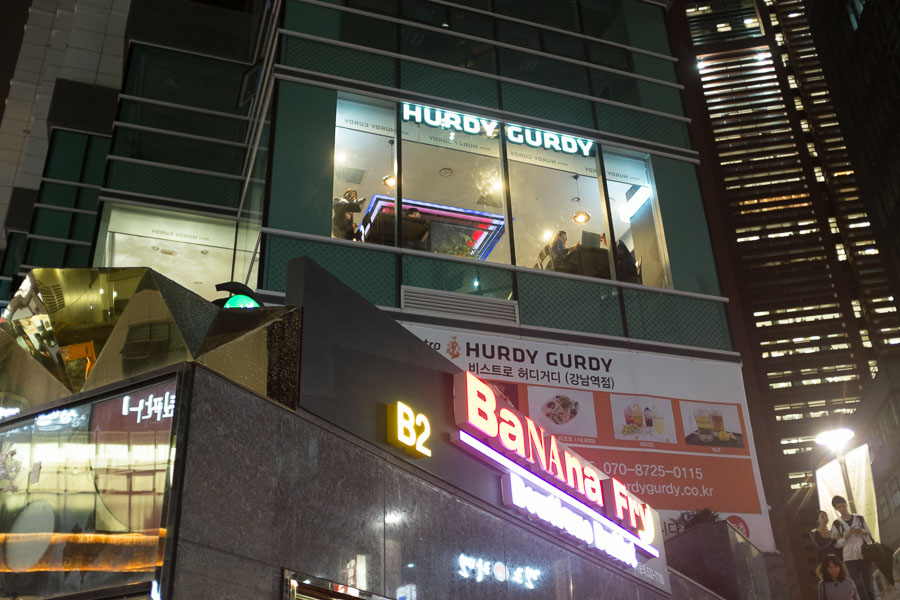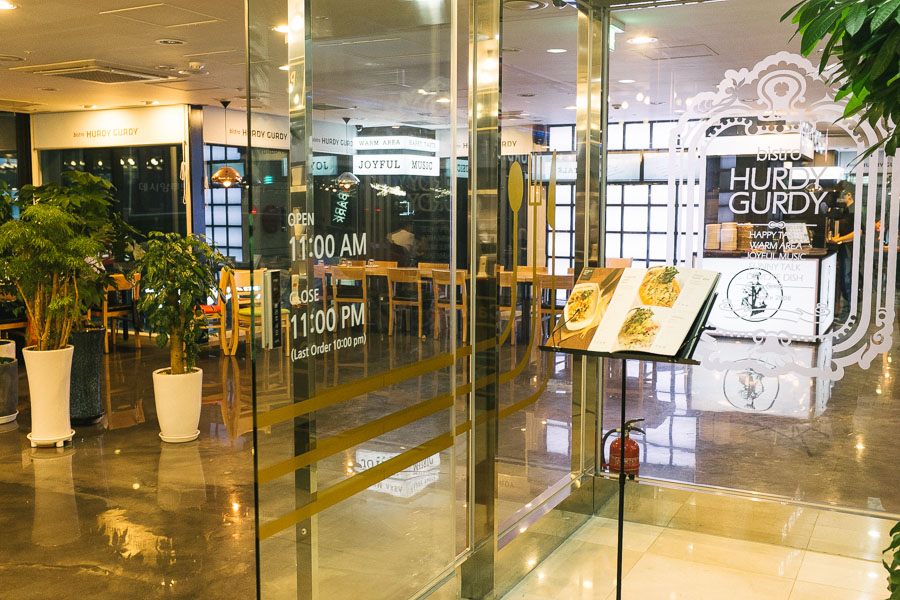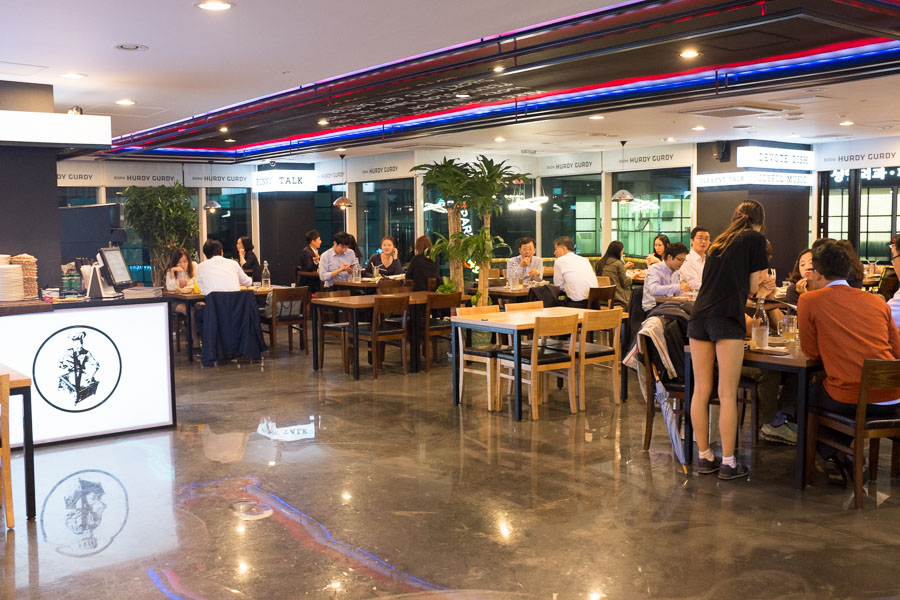 The food is good. I wouldn't say exceptional, but a solid good. I know that doesn't sound all that exciting, but neither is the food. But I'd definitely go again. The bread was.. GOOD. Fresh, soft, and tasty. But again, nothing special.

Pork Pineapple Pilaf 18,000w
The portions here are actually meant for 1.5 people. They say 2, but I say 1.5. So everything is meant to be shared. It doesn't look that big in this photo but that spoon is actually a large serving-sized spoon.


Pork Steak Salad 20,000w
I really have no idea why they call this a salad, perhaps they've forgotten the definition. But this is some Pork Steak with some salad on the side. Overall very good. Nice and tender, nicely flavored.


Basil Olive Pasta 16,000w
And the highlight of the meal, this Basil Olive Pasta was fantastic. We actually had only 3 people in our party so we ordered the above two items but were still a bit hungry so ordered this. It was a bit too much, but we manned up and finished everything. This pasta was very nice. The flavors are all amazing and came through nicely with just the right amount of salt.


Check out their website for more locations and to see their whole menu.
My apologies for a lack of posts lately. I haven't been visiting many new and interesting places. This blog only documents the places I really love and frankly I go back to the same places quite often. For example I go to Little Papa Pho at least three times a week. Usually I go alone and I'm pretty the workers there think I have some addiction problem. Which I do.
There are many locations throughout Seoul and Korea. The one I went to is below:
서초구 서초동 1303-16 아이파크에비뉴2층
1303-16 Seochogu Seochodong, I-Park Avenue 2F
070-8725-0115
11am-11pm (12a on weekends)
http://www.hurdygurdy.co.kr/

View Dining Addiction – Seoul in a larger map